Great Ustug
Velikiy Ustuyg is an old northern Russian city where the ancient customs and traditions are cherished and new interesting touristic trends are being developed.
Velikiy Ustuyg is located in 950 kilometers from Moscow in the north of Vologda region on the bank of the beautiful Russian river Dvina.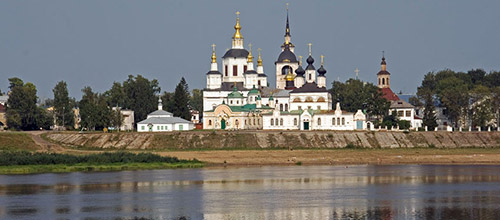 The city has rightly become the homeland of Father Frost, because it is located in the northern latitudes in surroundings of the winter nature magnificence and the city of skilful carpenters and silversmiths. Especially Velikiy Ustuyg is attractive for those who value quiet, calmness and bewitching beauty of the Russian nature. And since the doors of the residence of Farther Frost opened wide, Velikiy Ustuyg has become a recognized center of family holidays.
The office Farther Frost was built in Velikiy Ustuyg. There is a throne room, a museum, some workshops, a post office of Farther Frost and a souvenir shop. Each tourist has an opportunity to speak with Farther Frost and to take a picture with Farther Frost in the throne room, to send to relatives and friends New Year's cards and letters having a particular seal and an autograph of Farther Frost which are canceled by a specific postmark, to purchase original souvenirs or to produce some handicrafts in the workshop themselves.
The all-year-round itineraries for tourists are based on the most important events in the vital calendar of Farther Frost.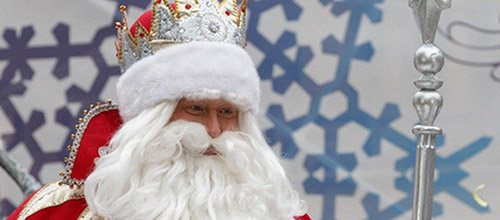 Late in December Farther Frost traditionally leaves his forest residence for the purpose to open and welcome all New Year's ceremonial events and during the whole winter period makes people happy by meetings and gifts.
At the end of March locals of Velikiy Ustuyg welcome beautiful spring (Vesna-krasna). And this is the time when Farther Frost returns back into his forest house to take a rest from winter business and cares as well as together with his assistants to answer the children's letters and to prepare gifts for the next New Year.
For the third time the Lord of Winter - Farther Frost appears in the public in the middle of June at the celebration events on the occasion of the Birthday of Velikiy Ustuyg.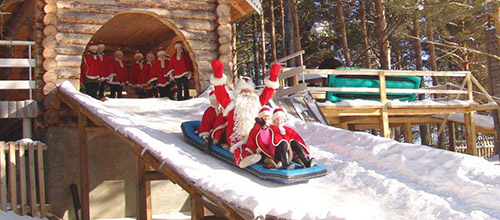 All above mentioned events are accompanied by street festivities and feasts, welcome parties, festivals of Russian cuisine as well as a visit of the Patrimonial Estate of Farther Frost and his office, theatrical performances, contests, concerts, shows and other entertainment events, fireworks, expansive excursion and cognitive programs that let people know culture and traditions of the Russian North.
Especially popular are the tours to the Patrimonial Estate of Farther Frost in winter when Velikiy Ustuyg and its outskirts are muffed up with flocky fabulously beautiful snow. Guests gladly take part in jolly traditional winter amusements and enthralling master-classes. It is reasonable to book winter holidays tours to Velikiy Ustuyg now! Make a present for yourself and your children an exciting trip into a fairy tale!
Velikiy Ustuyg and Father Frost are always happy to welcome new guests.